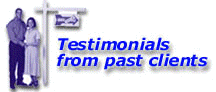 Dear Ruth:
Lester and I went to thank you once again for your great help in selling our house. You are a caring and understanding person, and you were a pleasure to work with!
Fondly,
Ina & Lester Rothenberg

Dear Ruth:
Just wanted to thank you for all of your help in getting us moved…and for your guidance and support during our moving process. We'll never forget you!
Pat & Joe Kuzmiak

Dear Ruth:
How do I begin to thank you??!! These months were difficult - the brightest moments were when I spoke with you and with your positive outlook and spirit you put calm in my life. I do believe, along with my "far-away family," you were a gift to me. I will always remember and hope I can pass on to others some of your positive energy… I came to appreciate your experience, professionalism, diplomacy, and kindness… Thanks for always being available.
Warmly,
Dorothy Hastings